Fax Service
Replace your dedicated fax line for just $15 / month.
Introducing, our new Fax service!! A new service from 186networks, that lets you keep using your old fax machine and also get the benefits of internet fax service. Unlike other internet fax services, our Fax service lets you keep your old and trusty fax machine. No learning how to fax documents all over again.
All you need is an internet connection. No phone line needed. Dump that expensive phone line that is only used for fax.
Features
Prices
How it works
FAQ
Status
Fax to email; receive all faxes as an attachment in your email. (This is in addition to the faxes going directly to your fax machine)
Email to Fax; (Fax directly from your computer or other device (no fax machine required)
Web administration panel to view faxes
Windows application to view and send faxes
Fax anywhere anytime with your computer or other email enabled device
HIPPA Compliant: Perfect for doctor/medical offices. Sending faxes over a fax enabled device is HIPPA compliant and the data is secured by super strong SSL encryption techniques.
The Cost is quite a bit less then your dedicated fax line, which is not needed.
Monthly Fee
Activation
Pay for the equipment up front
$15/Month
$109.99
Rent the equipment
$15/Month + $10/Month Rental
$25.00
All accounts include a maximum of 400 minutes (incoming & outgoing combined). Additional minutes are billed at 5cents per minute. (typically 1 page fax takes a minute)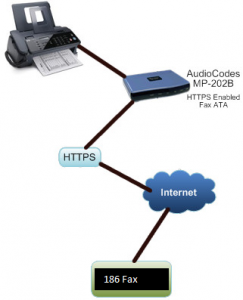 COLI Fax works with your Existing Traditional Fax machine, by connecting a converter device (fax enable device) to your Fax machine with a regular phone cable. The fax enable device is then connected to your Internet router with a ethernet cable. This fax enable device converts your documents to data packets.
When you send a fax, your fax machine will dial the phone number like it always does, but unlike a remote fax machine answering, the fax enable device answers and recieves the fax. After the fax machine finishes sending the document to the modem enable device, the modem enable device, changes the fax to data and sends the document over the internet to our service. Once our service gets the data, we dial the remote fax machine (the intended party) and deliver the fax document to the remote party.
For receiving a fax, the whole process is just in reverse. The fax enable device will receive the fax from our servers and then dial your fax machine to deliver your fax.
How to Send a Fax with Fax Enable Device
Send the Fax Like you normally would.  After the fax is sent successfully you will get an email notification with a confirmation if the fax was sent successfully or not. 
How do I send a fax directly from Email
To send a fax using our Email-to-Fax service simply send an email using the following Settings. 

From: authorized@email_address.com
To: <10_digit_number>@emailyourfax.com
Subject: <Your vFax DID number; 10 digits only> (You may now add 'cover page' to the subject line to have our system utilize the email body as a cover page)
Body: <Leave Blank>
Upon submission our system will reply with a confirmation or rejection notice.
Is there a desktop program to send a fax and also to see what I have recieved.?
Yes there is, you may download it here.  Once installed, open it up and type in your supplied username and password.
What type of attachments can I send using the Email to Fax service or the desktop program?
Attachments may be sent in JPG, PDF, Adobe PostScript, TIFF, Microsoft Word, Excel, CSV, HTML & Plain Text formats.
How do I change the Email address my Faxes are received at, the Authorized email account, and the confirmation address on my account.
You May do this at any time, by contacting us and we can make the changes for you.